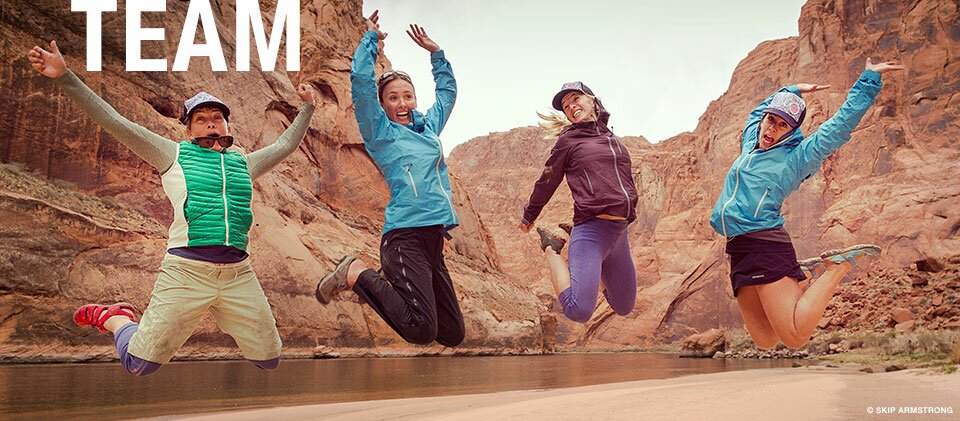 Becca Dennis

Becca Dennis was born with a paddle in her hand and a sparkle in her eye. A woman of all trades, she is an expert skier, rock climber and river guru who now calls the Grand Canyon watershed her home. Becca's knowledge of the river and her impressive technical skills are a testament to her love for the outdoors and all things wild and free.

Day Job: Grand Canyon Guide & Nursing Student

Passions: Sharing her love of wild rivers with others, free-soloing, giggling.

Our Favorite Dirty Secret: Never let that sweet face fool you. Becca has biceps that have made a grown man cry and a smile that gets her through just about anything. She is our secret weapon in any sticky situation.

Sabra Purdy

Sabra is a watershed restoration ecologist, rock climbing guide service owner, and caterwauling folk singer. She devotes most of her time to standing around in rivers, harassing fish, and sweet talking invertebrates. She brings a firm understanding of the environmental concerns facing rivers, a link to the international science community, and a love of hair-brained schemes.

Day Job: River Restoration Ecoglogist & Rock Climbing Company Owner and Guide

Passions: Picking folk tunes on her guitar, rescuing little river creatures, dirty jokes.

Our Favorite Dirty Secret: Sabra comes from a long line of traveling thespians. She can bust out a rendition of most major musicals at any given moment, and always keeps a wig, face paint, and impromptu costume fixings nearby at all times.

Amber Valenti

Amber is a Physician Assistant with a background in rescue and remote medicine. She has been guiding and celebrating wild rivers the world over for nearly a decade. A wild woman with an insatiable thirst for undiscovered places, she thrives on the dusty cracks of foreign cities and swirling currents of untamed rivers.

Day Job: Expedition & Emergency Medicine Physician Assistant

Passions: Keeping wild rivers wild, laughing uncontrollably, dancing back flips.

Our Favorite Dirty Secret: Amber is an expert jowler who has been perfecting her distorted facial expressions for decades. What is jowling you might ask? The act of rigorously shaking one's head side-to-side and pushing air through one's lips while taking an image of said face(s).

Krystle Wright

Krystle is a pioneering photographer from Australia who is accelerating the awareness and visibility of the world's wildest sports and athletes. A passion to capture the most unique perspective not yet discovered drives her inspiring work. She continually challenges herself and others to the next great adventure and brings gorgeous images of demanding adventures and landscapes to communities around the globe. http://www.wrightfoto.com.au/

Day Job: Adventure Sport & Expedition Photographer

Passions: Capturing wild places and people, pushing limits, hot cocoa.

Our Favorite Dirty Secret: Krystle easily holds the world record for most hot cocoa consumed on a single expedition. Seriously. This woman has a talent.