Sweat, Tears & Stories: Full Film Now Available Online
When we returned from Russia in August of 2013, emotionally and mentally exhausted, I handed Skip Armstrong, our director, a huge pile of disparate stories, footage, and audio. He had agreed to cut a film out of whatever we brought back many months prior. He had no idea what he was getting into at the time. It was a massive and emotional undertaking. Skip spent 7 months toiling over the making of the film and made nothing short of magic from a complex web of footage and stories. He is a little more gray and lot more under slept as a result. Though he may almost be recovered by now.
When we first screened it at 5 point Film Festival in April 2014 I was so nervous I could barely talk or think or do anything but sit gripped in my chair. The film was so tender and so close to my heart. I really struggled with putting it out into the world. We all did. It was a terrifying risk. We had dedicated it to our dear friend, and beloved partner of Becca, Zach Orman. And I wanted, more than anything, for it to a be worthy of it's dedication to such a bright light, missed deeply by so many.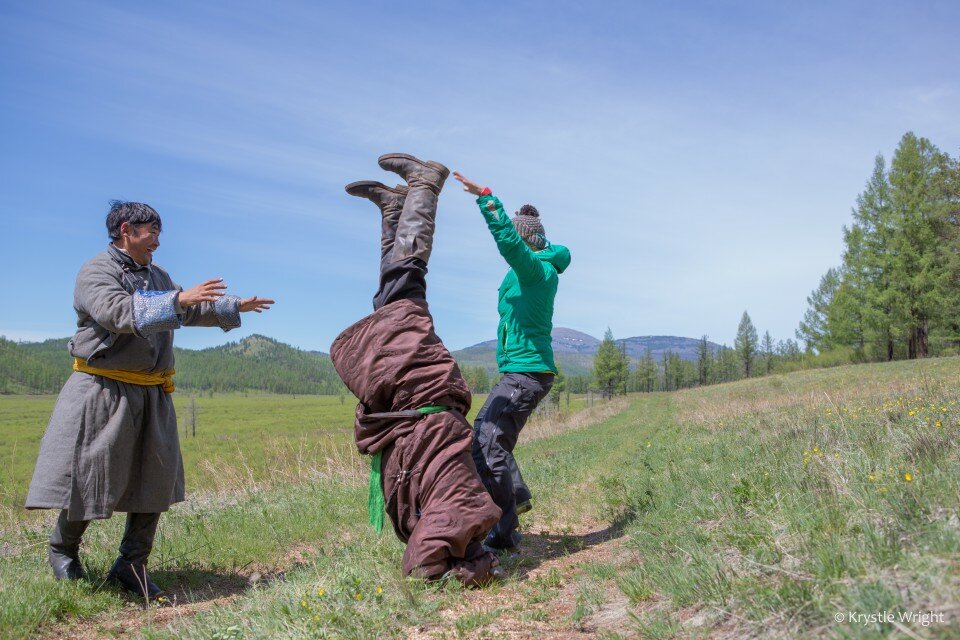 It's April 2015 now and we've been touring with the stories from this project and expedition for nearly a year. Film festivals, screenings, speaking engagements and written accounts spread all around the world from Europe to China to Krystle's homeland down under. It has been a wild and wondrous ride of a different kind. To watch audiences laugh and cry with us. To see the way our vulnerability and joy connects deeply with so many. To be hugged by perfect strangers with tears in their eyes.
I still get nervous to share this story in a new way, like we are doing today. The butterflies have been frequenting my belly for weeks leading up to this. But I feel very different about it than I did a year ago. I've learned a lot about trusting the process. And trusting the stories that each of us has to tell. That they are valuable and worth telling. Even if they are difficult or messy or you doubt yourself the whole way. The stories we tell from our hearts are medicine. They are connection. They are a gift we give to those who hear them. And a gift we give ourselves.
I hope you too will go out into the world and let big, beautiful, wild stories happen to you. And that you will share your stories, your medicine, with all of us too.
Much Love,
Amber
We are so proud to announce that the full Nobody's River film is now available online at Reelhouse.org
Thank you to NRS and Wazee Motion Pictures for helping us tell this story! A big thank you to each and every one of you who has supported us in any way, big or small. To all our sponsors, donors, readers, viewers, and worldwide community of moral supporters. It's been a joy to share this experience with all of you.