Another Reason to Celebrate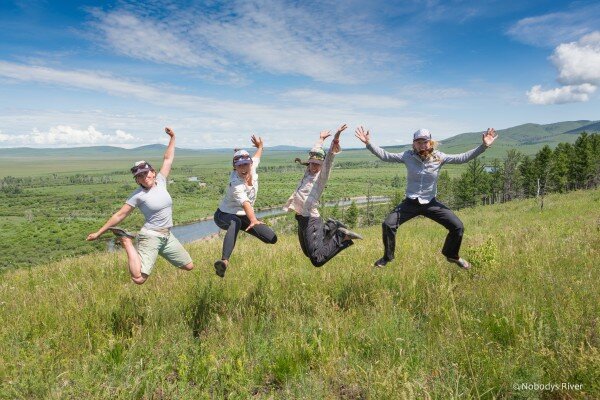 by Emily Nuchols
The journey planned is rarely the journey taken. The Nobody's River expedition team had no idea how true this would be as they prepared to leave for a two-month expedition in Mongolia and Russia. Today, the team released the trailer to their film that documents their journey along the Amur River, one of the few remaining free-flowing rivers of the world. From their hilarious antics to deeply human struggles, these ladies shine a light on the soul of internal and external exploration–and show us that no matter what, there is always a reason to celebrate.
We caught up with expedition leader Amber Valenti and asked her a few questions about the adventure so far, and where she's headed from here.
NOBODY'S RIVER – TRAILER from NRS Films on Vimeo.
Adventure: You returned from your expedition down the Amur River a year ago, but it sounds like you've still been on quite the wild ride. Can you tell us what the las year has looked like for you and the team?
Amber Valenti: The last year has been nearly as wild as the expedition itself. It has been full of processing, healing, and learning. Creating a film about a story so near and dear to our hearts was an incredible challenge and very powerful process. There were so many times I thought, there is no way we can do this! We should throw in the towel and let this go. It was a process full of all-nighters, vulnerability, and big emotional hurdles. But looking back now, with a lot more perspective, I am really grateful we found a way to tell this story.
A: While you shot all of the footage yourselves on the expedition, filmmaker Skip Armstrong edited everything into the final film. What were some challenges in this process? Any rewards?
AV: Skip worked amazing magic with this film–and completely unreasonable hours for months. He was handed 60 days of disparate footage with the pieces of a very tender and sensitive story in it when we returned last August, and somehow he wove together a story that felt honest, loving, and carefully crafted. There were so many important pieces of the story where we simply did not get enough footage. And Skip would toil for weeks to find another way to tell that part of the story. It was the most challenging project either of us has ever worked on, on both a personal and professional level. The reward, for me, is the personal transformation that doing something so difficult allows. It's the insight into myself, the world, and those I love. And of all the rewards my favorite is watching and hearing about people connecting with the film. One of my favorite moments was when a young adventurer came up to me after a show and said, "I kept thinking during the film, why haven't we been dancing on our expeditions and trips?!"
A: What do you hope to accomplish by bringing this story home?

AV: By telling this one story we hope to add a little inspiration to the mix–a little inspiration to continue caring for and fiercely protecting the places we love most. The volume of stories out there about what's wrong with the planet is overwhelming. But untouched wilderness, adventure, and leopard print pants–we can never, ever get enough of that!
I also think that anytime we share our truth we give something valuable to the world. Truth heals, connects, and inspires. But it can be so difficult to do! To be that vulnerable. I struggle with it every day. So my hope is that by telling a little bit of our truth through this vulnerable story we'll encourage even just one other person to do the same.
A: If you could tell us all just one thing that you learned from your experience thus far, what would it be?
AV: It's a privilege to keep trying. To keep trying for social change even though the world can feel hopeless at times, to keep trying for personal healing even though the past or present hurdles seem too big sometimes, to keep taking out dams and cleaning up rivers even though powerful organizations are still trying to dam pristine rivers. It's a gift and a privilege to keep trying.
More from this interview on National Geographic Adventure