Project Update: Stories, Boats & a Film In the Making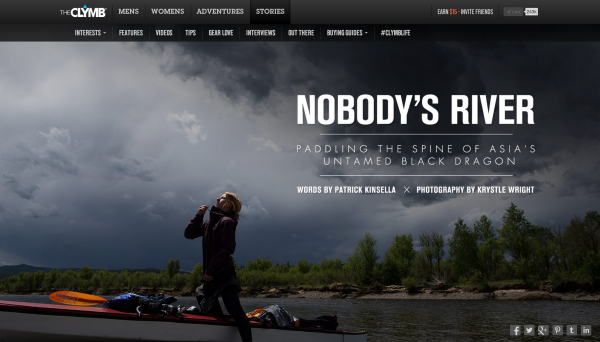 It is already November and we are past due for an update! We've been reflecting big time–letting all the experiences of the journey sink in. And settling back into the beauty of daily life. We have also been working hard behind the scenes to develop and share lots of stories since we've been back. Here are some highlights of all the Nobody's River goings-on.
1. Filmmaking!
It's happening. It's really happening! Movie making is in full swing. Skip Armstrong has been digging into all the expedition footage and starting the hard work of crafting a story. We cannot believe we got so lucky as to have a real live filmmaker tell our story! We can't wait to share the film with you all this spring.
2. Selling Kayaks. Help!
We are having a hell of a time selling our beautiful Trak kayaks. They are a major piece of our (apparently somewhat flawed) master plan to finish funding the Nobody's River Film that is set to premier in April. We are amateurs after all. Thank goodness we are hiring some incredible, real talent to make the film. Please spread the word if you are able! More info on these rad boats here.
3. LOTS of Showering
We smell a whole lot better these days. And have really been enjoying using Toilet Paper instead of leaves and rocks again.
4. National Geographic Weekend Radio Show
We had a blast interviewing with the NG weekend radio show. Listen in here.
5. A Feature Story On the Clymb
The Clymb and Patrick Kinsella did a stunning job of presenting our story. Check it out HERE. You can see all the latest media that has come out post expedition on our Media Page.
Some things haven't changed. Krystle is still galavanting across the globe dropping F-bombs like it's her job. Sabra is back in the desert plotting her next ecological feats and singing folk songs. Becca is still the cutest person we know and continues to be surrounded by lots of love and community on her journey. And Amber is still pretending to be a responsible adult while daydreaming about what other kinds of trouble she can get into. Look for more updates here in the coming months!
Skip Armstrong contemplates life, women, and mustaches during a typical day of editing the Nobody's River Film…or maybe that's everyday.