Raging Unknowns and Transitions in Russia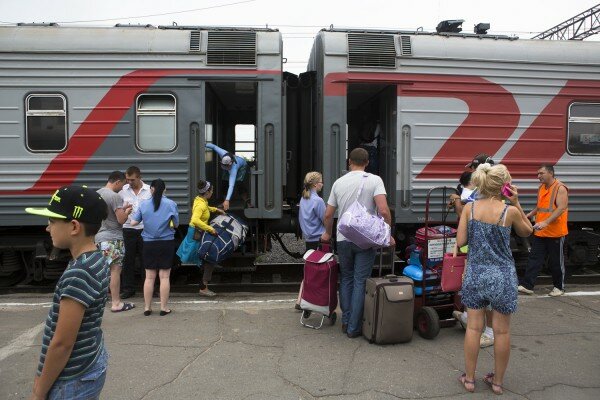 Editor's note: On April 7th the Nobody's River team began a very different kind of journey. Zach Orman, Becca Dennis' longtime partner, was in a terrible paragliding accident. He passed away a few short hours later at the age of 28. After one month in Mongolia, Becca realized her own journey had changed once again. While the three other team members are now paddling the Amur River through remote Eastern Russia, last week, Becca returned to her high mountain home in the Sierra Nevada Mountains to follow her own path. Our hearts are with Becca and the Orman family, as well as the three women paddling on the Amur River through Russia.
Transitions are always challenging. This one was no different. After 25 days in the lush wilderness of the Onon River, we were back in Ulaan Baatar getting ready to launch into the mysterious and daunting Russian portion of the journey. Becca had decided to head back to the United States and we were all sad to see her go, but of course understood completely her need to be back with her and Zach's family.
The Onon had been so kind to us. The river was stunning; meadows rife with wildflowers surrounded us, the mosquitoes hadn't been all that bad. But Russia felt like it would be another beast entirely.
We are now in Khabarovsk. The river is enormous here, ranging from two-to-four kilometers across, braided with complex channels, shipping lanes and a dreadful amount of pollution. China in particular, with its dubious honor of being the most polluted country in the world, contributes massively to the degradation of the water quality here. But Russia is far from blameless. Mad cow disease or something like it seems to be a problem, and infected carcasses are thrown into the river without regard. Factory effluent and sewage are also huge problems and numerous benzene spills have been recorded in the past decade. People warn us not to eat the fish here or swim. The water is full of bacteria and viruses and causes skin infections and worse. Fish are frequently deformed. None of this is heartening to hear.
We are getting ready for the final leg of our river journey. This section has always been a raging unknown and now that we are finally here, logistics seem to be getting more, not less, complicated. It is nearly 1,000 kilometers from here to the ocean and we are very short on time. We sit in our weird little hostel room and discuss the possibilities. With the time we have left, we all feel certain there is no way we can make the mileage to paddle the whole 1,000 kilometers to the ocean. The summer monsoons are in full swing here with terrifying lightning storms and high winds. We pretty much figured out that we would need to paddle an average of 55 kilometers a day for 18 days straight with no leeway for stormy days, high winds or simple exhaustion. We are also incredibly exposed down here. Now we are just three women, who have absolutely zero in-country support and zero language skills. Not a single Russian company has wanted anything to do with us. We have also made the realization that there is no way out if we don't make it to Nikolaevsk-na-Amure within our allotted time. There are no local ferries, there is little-to-no road access to most of the little villages we might encounter, and there is no way to turn around and paddle back upstream if we're running out of time.
So what do we do? We are sorting through our dilemma, trying to make the best decision possible in the face of a very intimidating section of the river with enormous logistical challenges. These are hard decisions to make as a group. We are grappling with our own expectations of ourselves and the trip, weighing extremely legitimate concerns about the feasibility of what we are trying to do—and all the while, a clock is ticking down in a place where everything takes three times longer than we expect it to.
We think we have come up with a plan. It's not a perfect plan, and it is disappointing to us to not just go for it and try to make it all the way to the ocean on our own steam, but the chances of making it are pretty much non-existent and the consequences of not making it are pretty bleak. So—we plan to paddle 400 kilometers to Komsomolsk. There we can get a ferry to the town of Nikolaevsk-na-Amure, about 35 kilometers from the ocean. From there we hope to hire a local fishing boat to take us to the mouth of the delta where the Amur meets the Sea of Ohotsk.
This journey has never really been about just one thing, and as we wrestle with how to make our final days in this remote corner of the world count, we have reflected greatly on the gifts, lessons and deep challenges this journey has provided to us. We know one thing: we are just so very lucky to be here. What has become clear to us here is that we are seeing a place in the world on the very brink of enormous changes. It faces brutally difficult challenges that must be met with the collective will of three countries—all struggling with different needs and values. If it remains nobody's river, it will sink further into the abyss of pollution, dams, species extinction and loss. If, on the other hand, it becomes everybody's river and is valued for the treasure it truly is, one of the last great wild rivers on the planet can be saved and support generations of humans, birds, fish and other creatures. We are not the first people to explore this region, we are not pioneers in an untouched land, but we see with clear eyes how fleeting and precious this river is. It is one of the last of its kind and we must do everything in our power to celebrate it, care for it—and above all, protect it.
More from Russia on National Geographic Adventure…