Unscripted Endings: Finding the Sea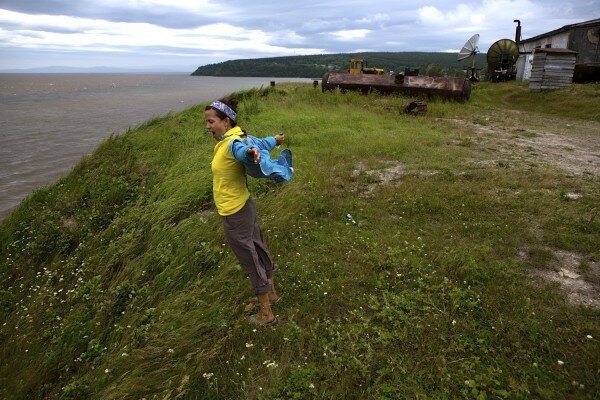 Only 35 kilometers more? I could not comprehend the end. We had been wandering for so long.
The 10-hour ferry ride from Komsomolsk went by in a flash of stunning landscapes and gawking onlookers. We were better than wildlife here in Far Eastern Russia. We ended our ferry ride in the mysterious town of Nikolaevsk Na Amure, a town they say has seen only one other group of foreign tourists in the last 20 years. Luckily our many sacrifices to the Amur River (a shoe, a GPS, a water drom, our pride) seemed to come back to us in good travel karma. The only English speaker for probably 600 kilometers practically fell in our lap. And Liza was the key to completing the very last leg of our journey—getting from Nikolaevsk, along the rugged shoreline, to the Amur River delta and the Sea of Okhotsk.

An insiders glimpse into small town life in the Far East.
PHOTO: Krystle Wright

The last 35 kilometers was not at all how I imagined our glorious finish. I pictured a quaint little fishing boat and wind in our hair taking us from our last stop of Nikolaevsk Na Amure to the massive Amur Delta on a beautiful clear day. But as Russia kept reminding us, expectations only get in the way of unscripted adventure. So we savored the surprise ending and hung on for the ride.
We jostled in time with swaying Russian Orthodox icons, random trinkets, and a Russian flag adorning the dash. Remixed techno versions of forgettable American rock songs blared through the speakers. Our stoic driver sped and swerved madly along a rugged shoreline fighting wind and rain. His two young friends bounced silently in their seats. It seemed fitting that our bizarre trip through Far Eastern Russia should be completed under such hilarious circumstances.

The Team plots out the their final leg with new friends in Nikolaevsk Na Amure.
SCREENSHOT: Krystle Wright

Just over an hour later we fell right off the edge of the map and landed in an all but forgotten fishing village. A tattered pier and a few wooden buildings crumbled into the sea. Rusted remnants of large industrial machinery decorated the hilltops. And some indigenous squatters peered askew at us from their perch by a small fire on the headland. Storm clouds brewed, waves crashed, and the winds blew harder than they had perhaps the entire journey. As we touched the Sea of Okhotsk, waters of the Pacific Ocean, some 5,000 kilometers and 2 months down the line, our journey was complete. I laughed and ran around on the shore like a child. We did it! Krystle shot her heart out. Sabra smiled big as she explored the headlands and vibrant purple wildflowers.
Then we just stood there for a long time on the blustery shoreline surrounded by spawned out salmon and some scattered trash brought in by the sea. Suddenly all the emotion I thought I was too tired to feel, washed over me. And I cried. I cried hard. I wished more than anything that Becca could be here to see this. I cried for all that has been lost, in our lives and on this amazing Amur watershed. But more than anything I simply flowed over with gratitude for all we do have, for connections, for love, for wild places, for unpolished journeys, for fleeting perfect moments and for the incredible chance to see this for ourselves. And I cried because sometimes, life is too beautiful, too complex, and too wise for words.

Sabra(R) and Amber(L) reflect on the gifts of a long journey at the Sea of Okhotsk.
PHOTO: Krystle Wright

Struggle is a wise teacher. I value the things I struggle for on a deeper level. Perhaps that is why the Amur River will forever have my heart.
If I am lucky enough to grow old, I will still dream through well worn smile lines of double rainbows on the untamed shores of the most perfect river I have ever seen. It exists still. Flowing freely through the pristine valleys of the Khan Khentii and the massive braided channels that stretch on into eternity. Connected. From its sacred source, to the place where it meets the world at the sea. At the same time broken and absolutely perfect. Just like each of us.

Krystle plays in the wild wind at the Sea of Okhotsk.
PHOTO: Amber Valenti

The Final Count: The Expedition In Numbers
Total Distance Traveled Through The Amur Basin: Over 5,000 Kilometers
Methods of Transport Utilized: Kayak, Plane, Train, Lorry, Purple Russian Minivan, Paraglider, Feet, Overloaded Pack Horses, Ferry and the goodwill of others.
Amount of Film Captured: 1 Terabyte
Images Captured: 23,000 Photos
River Science Surveys Completed: 25
Timelapse Cameras Installed to Monitor Seasonal Flooding: 5
Dance Parties Had: Too many to count
Whole Goats Eaten: 1
Hot Cocoas Consumed by Krystle Alone: 85
Time Zone Changes: 7
Mongolian Words Learned: 32
Russian Words Learned: 65
Rolls of Toilet Paper Used On the River: Zero
Species of Plants Utilized in Place of TP: 21
Times We Were Lost In The Braided Channels of the Amur: At least 8
Ridiculously Beautiful Double Rainbows: 2
Lessons Learned: Still TBD

The only leopards spotted on the trip. Making it back to the US in one piece and wearing one-pieces.
PHOTO: Random Friend At Airport