Six Things We Loved In Ulan Bataar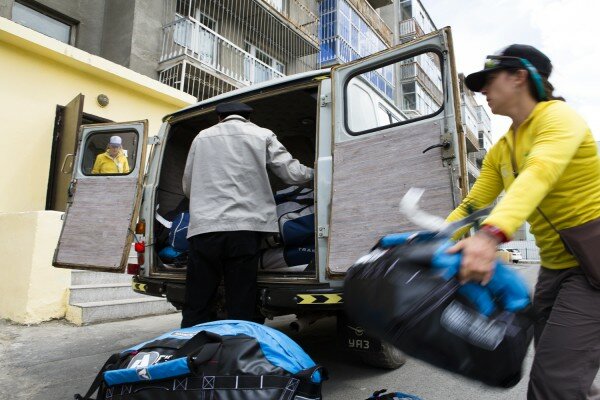 Nobody's River is a an all-women expedition on one of the world's greatest and least known free-flowing rivers, the Amur. They will be documenting it through moving and still images, as well as gathering scientific data on this rare example of a massive free-flowing river. The team will travel from the headwaters and the birthplace of Genghis Khan all the way to the Pacific Ocean Delta. Mongolian horses. Packrafts. Kayaks. Ferries. Trans-Siberian trains. You name it and it will probably be a part of the journey. The team has now been on the river for six days and is just 60 kilometers from Binder in eastern Mongolia. Every Wednesday we will be posting dispatches here, on the Nobody's River blog. Enjoy!
After 18 hours of flights and countless hours of traveling, packing and shuffling our gear, we arrived in Ulan Bataar (UB), Mongolia—and miraculously, so did our 19 bags of supplies, boats and food. Because of snowmelt and spring storms, the river was surging and we had about a week in UB to wait out the high water and whittle down our gear.
Here's what we loved about this amazing city, and what we're looking forward down river…
Six Things We Loved About Ulan Bataar
1. Lack of Addresses. The day we arrived we learned from Krystle that the hostel we had booked was on the third story. As we looked back at our massive pile of gear and bags we agreed we needed to find a new place. We called Jan, our Mongolian logistics coordinator, and asked if he could give us the addresses to a few other hostels. That's when we learned that addresses are not really used in UB. It's all by landmarks. Which makes for a hilarious day when your driver is from the country and you don't speak Mongolian.
2. Soviet Era Apartments. Luckily for us, when we arrived at our hostel to ask about other options, we found out they had messed up our reservation anyways. They felt really bad and ended up putting us in a furnished 2-bedroom, first-floor apartment they had a few blocks away. We've been living the soviet-era Mongolian dream ever since behind our barred windows and blocky walls. It's way nicer than it sounds…
3. Delicious Food. To our surprise the food is amazing here! We have eaten all sorts of wonderful hole-in-the-wall cuisine: Mongolian, Indian, Japanese, French bakery and Irish Pub/Brothel.
4. Flexible Bureaucracy. People are nice here. And very flexible. Even the government officials are flexible. This came in handy when we arrived at customs and they pulled us aside to examine our food bags. The officials held up bags of freeze-dried carrots, beans and mushrooms with confused looks on their faces. They did a lot of pointing and exclaiming things in Mongolian to each other. Sabra and Becca stood there smiling, nodding, pointing and repeating English words slower and in the closest thing they could muster to a Mongolian Accent. I don't think they understood any of it, but amazingly enough it worked and they sent us on our way, with every last bit of our expedition food.
5. No Time or Calendars: We have quickly picked up the local custom of avoiding planning, time and calendars. It doesn't help to have a schedule if no one else does. So we are on Mongolian time. And we may never revert back!
6. Playing chicken with cars. In typical developing world fashion, crossing the street is lawless and perilous. We've discovered that the best method is to tentatively step into the street (this is best done if Mongolians are attempting it too) and probe cautiously forward until some cars show some signs of slowing, then run like hell.
Six Things We Are Looking Forward To
1. Medicinal Vodka. It has been suggested by our interpreter to take one shot of local Vodka per day to maintain our health while on the expedition. We agree.
2. Waving & Smiling at Border Guards. While attempting not to pee our pants. We get within 5 kilometers of the Russian border in the first week of our paddling journey. It turns out governments do not really like third-party nationals getting close to their international borders. Go figure. It sounds like we are in touch with the right people. We'll see if the message made it out to the Border Post.
3. Goat Meat/ Horse Day Equivalents. Finding out exactly what "It's a 1 goat horsepack" means.
4. Pocket & Shoe Meat. Learning the local tradition of packing goat meet in our pockets and boots. I'm not worried about bears, are you?
5. Child Wranglers. One of the outcomes of Mongolia developing is that people buy motorcycles instead of riding their horses, so apparently our horses are a little rowdy. But don't worry, they're going to send some children out to break in the horses so the white girls will have placid mounts.
6. Getting Our Feet Wet. Pushing off the shore our first day on the Upper Onon… on the river at last! After all, that is the reason we came!